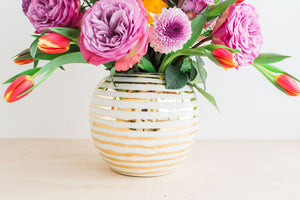 Porcelain, wheel thrown sphere vase finished with a clear glossy glaze. 22k gold stripes are painted onto the finished surface and the vase is kiln fired for a third time. 
Dimensions: approximately 7.5" tall x 8.5" wide
Please wash gold with gentle cloth rather than an abrasive scrubber.
Fired cone 8 oxidation.
Shipping: These items will be made-to-order after the wedding and will be shipped directly to Kate and Kevin.