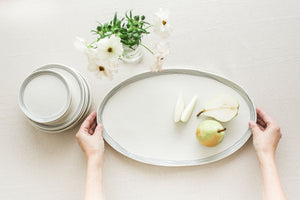 This handmade porcelain serving platter is beautiful and versatile. Can be used for coffee or cocktail service, paired with a bowl for snacks with dip, or to create a charcuterie tray.

Every piece is handcrafted with porcelain clay, carved by hand, inlaid with black underglaze, and finished with a clear gloss glaze. Each piece is unique, with some variation, since everyone is created and decorated by hand.

Dimensions: Oval Platter - 16 1/2" long x 10 1/4" wide

Fired cone 8 oxidation.
Food, dishwasher, and microwave safe.
Shipping: These items will be made-to-order after the wedding and will be shipped directly to Kate and Kevin.